Achieve a beautiful smile and have even more reasons to show it with confidence.
From the first visit to the final moment we reveal your smile, you will understand why people of North Shore, Laval and Montreal choose us!
Dr. Marie-Alice Mandich
Dr. Mandich is a native of Montreal and earned her degree in Dentistry at McGill University. After completing her Master's degree in Orthodontics at the University of Alberta, she set up her own orthodontic practice in the Edmonton area and successfully grew her clientele for over many years. Now, with an excellent reputation with her patients and professional community in Alberta, Dr. Mandich is delighted to return to Quebec to offer her expertise to patients in her native region. By combining her experience with the most recent technologies available in orthodontics, Dr. Mandich offers state-of-the-art services and comfort for patients, reducing the number of appointments while improving the level of precision. The expert knowledge of Dre. Mandich of these new advances will provide you with the highest quality services.
Orthodontics is a specialty in dentistry that deals with diagnosing, preventing and treating dental and jaw relationship irregularities. Correcting the position of teeth and bones to place them in the optimal relationship ensures long term health of your teeth, jaw bones and jaw joints.  If your teeth aren't aligned properly, you could develop tooth decay and cavities, bone loss, recession, gum problems, difficulty chewing, jaw joint pains and issues, and even speech impairment.  Orthodontics can prevent and address these issues and give you a beautiful smile to live life confidently.
WHO WILL BENEFIT FROM ORTHODONTICS?
Orthodontics can be done at any age, starting as early as around 6 or 7 years old and we have had patients who are over 80 years old. Most people who get orthodontic treatments have dental or facial irregularities that run in the family, including those related to tooth and jaw size.  These problems can lead to crowding or spacing of the teeth and difficulty in chewing properly and efficiently.  Overbites, crossbite, and extra or missing teeth are also usually inherited.  Other people will choose orthodontics to treat problems related to accidents, pacifier or thumb sucking, dental diseases, aging of teeth, gums and jaws, or preventing premature tooth loss.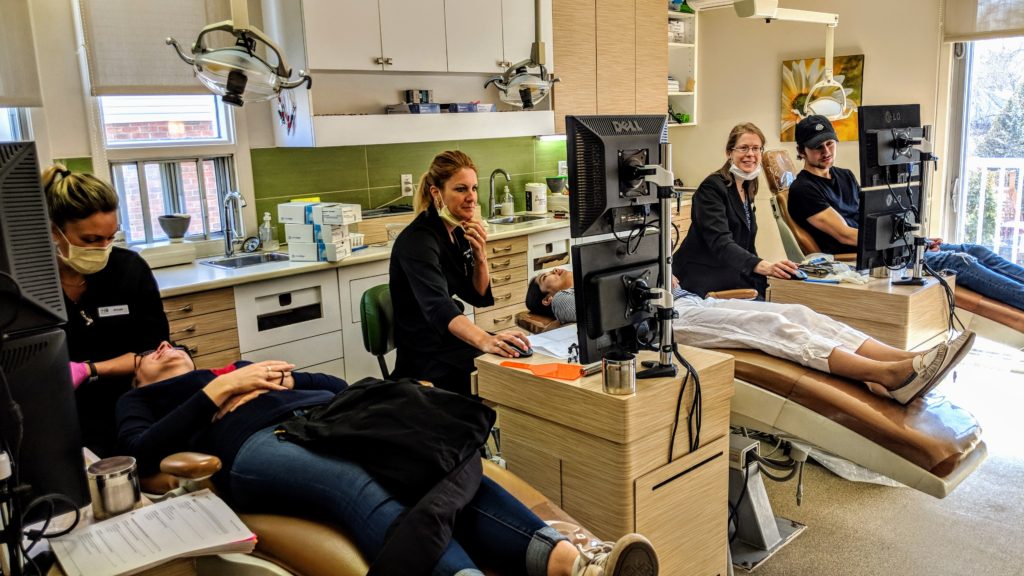 DENTIST? ORTHODONTIST? WHAT IS THE DIFFERENCE?
Why choose an orthodontic specialist?
An orthodontist is a dental specialist who is the best person to make the appropriate diagnosis of any dental and facial irregularities you may have and to prevent or treat these issues.
Orthodontists first become dentists, and then spend an additional intensive three years of university specialty training to obtain a Masters in Orthodontics and Dentofacial Orthopaedics.
For this reason, an orthodontists have a deep understanding of dental and facial skeletal growth issues, and the appropriate treatments and corrections to address the health issues resulting in the malocclusion and skeletal disharmony.
A dentist on the other hand, ensures all your teeth are healthy with regularly scheduled dental cleanings, removes any cavities and tooth decay with the best filling required and replaces any missing teeth.  Some dentists take a few courses to expand their dental knowledge to include services to their patients to align their teeth by offering braces and Invisalign.  However, they never obtain the accreditation of a specialist without having gained the additional knowledge and a Master's in Orthodontics to be able to diagnose appropriately all the vast dental and skeletal issues that exist and offer the appropriate option to correct the unique diagnosis with an individualized approach for each person.
HOW LONG DOES ORTHODONTIC TREATMENT LAST?
Orthodontic treatment is undertaken to correct specific issues and improve the oral health of a person, with the added benefit of obtaining a beautiful smile, esthetic result and greatly improve a person's confidence.  The growth correction of the teeth and jaws is timed with the optimal growth of each person, which varies from individual to individual.  Generally, orthodontic treatment takes about 18 to 24 months.  The factors that influence the treatment time are growth of the mouth and face, a person's cooperation during the treatment and the severity of the issues being corrected.
In certain instances, an orthodontist will recommend an orthodontic treatment that is short lasting during a child's young age to address a very specific growth aspect to prevent more significant problems from developing and to maximize growth and long-term stability.
Call us for a complimentary consultation with our treatment coordinator or schedule a complete examination with Dr. Mandich!  In your complete examination, we personally assess your needs and identify together the dental and oral facial issues requiring orthodontic correction. We will then help you understand the recommended orthodontic treatment, the investment involved, and play with some numbers to come up with a plan that fits with your budget.
We are mindful of how busy our patients lives are, and if you are interested in a virtual consult, let us know!
The goal of the first appointment at our office is to determine if an orthodontic treatment is necessary, what treatment is recommended and when is the best time to start.  The best time to start an orthodontic treatment is individualized to each child's growth and helps prevent worsening issues with teeth and jaws, which is why the best time to see a child for a consult is by the age of 7 years old.
A thorough assessment and measurements of your teeth and jaw relationships is done during the complete examination with Dr. Mandich.  Pictures and radiographs, if necessary, are taken of your teeth and face.  Dr. Mandich will listen to your needs and she will explain her diagnosis and recommended orthodontic treatment which will correct your dental and oral facial health.
Once you have chosen to proceed with orthodontic treatment, your appointment to place the braces can usually be scheduled the same day or a few days later.  We are always happy to help you save time and a visit, by starting on the same day as your consult or examination or at a convenient time for you to make things easiest for you.
TIMELINE OF ORTHODONTIC TREATMENT
We are here to serve you. Visit us in person or give us a call.